Standard Office Rubber Band Sizes*
| Band Size | Dimensions |
| --- | --- |
| 8 | 7/8 x 1/16 x 1/32 |
| 10 | 1 1/4" x 1/16" x 1/32" |
| 12 | 1 3/4" x 1/16" x 1/32" |
| 14 | 2" x 1/16" x 1/32" |
| 16 | 2.5" x 1/16" x 1/32" |
| 18 | 3" x 1/16" x 1/32" |
| 19 | 3 1/2" x 1/16" x 1/32" |
| 27 | 1 1/4" x 1/8" x 1/32" |
| 30 | 2" x 1/8" x 1/32" |
| 31 | 2 1/2" x 1/8" x 1/32" |
| 32 | 3" x 1/8" x 1/32" |
| 33 | 3 1/2" x 1/8" x 1/32" |
| 62 | 2 1/2" x 1/4" x 1/32" |
| 63 | 3" x 1/4" x 1/32" |
| 64 | 3 1/2" x 1/4" x 1/32" |
| 73 | 3" x 3/8" x 1/32" |
| 84 | 3 1/2" x 1/2" x 1/32" |
| 94 | 3 1/2" x 3/4" x 1/32" |
| 105 | 5" x 5/8" x 1/16" |
| 107 | 7" x 5/8" x 1/16" |
| 117A | 7 x 1/16 x 1/16 |
| 117B | 7 x 1/8 x 1/16 |

Standard Quality
Many styles available in natural, red, blue or green colors
Excellent number of bands per pound (example: #64 approx. 320 bands per lb)
High tensile strength
Mid-range rubber content
Wide range of available sizes
Good all-around office, newspaper, agriculture and other general use bands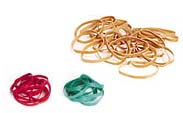 Premium Quality
High number of bands per pound (example: #64 approx. 424 bands per lb)
High tensile strength
Soft stretch for easy application
Wide range of available sizes
Many styles available in natural, red, blue or green colors
Best for custom designed applications
Long life – great for reuse
Available in synthetic Non-Latex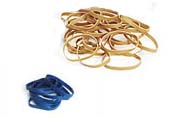 Ultimate Quality
Translucent amber color
Highest number of bands per pound (example: #64 approx. 490 bands per lb)
Softest stretch available
Highest rubber content
Need a longer-lasting band for storing files?
X-treme File Bands™ – 1 lb. Box
These 7" x 1/8" file bands are made with a non-latex EPDM (Ethylene Propylene Diene Monomer) formula.
EPDM makes these bands UV and ozone resistant, and extends the longevity of this product for use in both regular and archival filing.
Providing Quality Rubber Bands Nationwide for Over 70 Years
Request a Quote