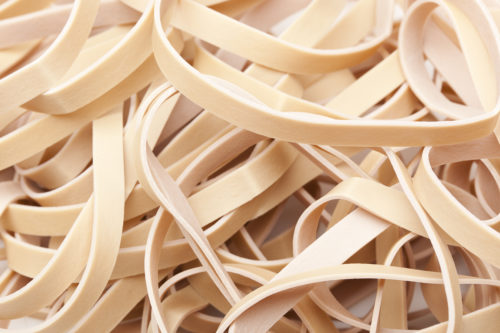 As a leading global supplier of banding products, Lee Rubber Products backs up the quality and reliability of every order we deliver with:
70+ Years of Experience
Top-Level Customer Satisfaction
Industry-Leading Expertise
Experience
Since our founding in 1949, banding products and rubber bands have been our specialty. Lee Rubber Products is a family-owned business with our third generation of rubber band specialists at the helm of operations. We are among the distinguished businesses in the industry, being woman-owned and operated. Our longevity in the industry has positioned us with some unique advantages like a large customer base and a wide factory network to meet our supply needs. Lee Rubber passes on these benefits to our customers, offering everyday competitive pricing throughout the U.S. and across the globe.
Customer Satisfaction
We're committed to helping clients meet their unique goals and objectives with high-quality products and a top-level buying experience. We accomplish this by providing:
The Right Rubber Band. We meet your need for small, common stationery bands all the way up to super-large rubber bands used to secure pallet loads.
Personal Service and Quick Issue Resolution. We take the time to listen to our customers and understand their needs rather than making them talk to a machine. Our team will help you select the banding solution for you, and we quickly make corrections if there is an error anywhere in the process.
Dependable Delivery. We will ensure your order arrives where and when you need it.Great
Pricing. At Lee Rubber, we keep you within your budget by providing excellent pricing.
Expertise
Lee Rubber knows how to match the best band to the right application. When an off-the-shelf product does not serve your needs, we provide a range of custom bands to meet your specifications, such as:
Latex-Free Bands
EPDM Bands
Custom Printed Bands
UV Inhibitors
Scented Bands
We are the industry leader in providing non-latex, synthetic band options and have a unique understanding of the instances where non-latex or latex-free options are necessary, including important medical and agricultural industry applications.
We specialize in industrial and warehousing of bands and banding products. We also provide products that comply with CA Prop 65 and other standards, providing certified products that meet MSDS, REACH, COC, COO, FDA and ISO ROHS standards wherever they are applicable.
Lee Rubber Products reaches beyond selling you a box of rubber bands. With our experience, commitment to customer satisfaction, and expertise as an industry leader, we provide rubber bands and banding products designed to help you accomplish your goals. Contact us today!
Providing Quality Rubber Bands Nationwide for Over 70 Years
Request a Quote