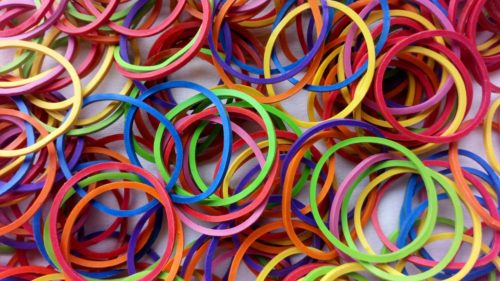 When off-the-shelf sizes and designs are not the right fit for your application, Lee Rubber provides a custom solution to meet your needs, including:
Non-Standard Band Sizes
Custom Printing of Items
Unique Concepts and Applications
In our 70+ years of experience in the industry, we have developed an expertise in knowing which band provides the best solution for each application.
What Determines the Correct Band to Use?
Our team follows a simple formula for determining which band is right for your application. We begin with examining the limiting conditions placed on the band in its installed application and ask questions like:
How is the band used? For example, some industrial and machine applications require heavy-duty options.
What environmental factors (temperature extremes, UV exposure, etc.) will the band be exposed to? An example might be its exposure to ultra-high water temperatures while the installed application is washed.
Will the band be exposed to particular substances in its application? Higher-grade elasticity often helps overcome exposure to certain substances.
Having determined the right type of band material and its specialized properties, we move on to other aspects of the application.
Custom Order Capabilities
Lee Rubber has the capabilities to meet the unique and specialized needs of your application, including:
Custom Sizing
Although we carry an array of standard sizes, there are instances that require a special size to fit a certain application. Lee Rubber provides our clients with custom sizes, lengths, widths, and colors to meet your specifications. Our technicians work within the specifications provided by our customers to produce the band best suited for them. Our custom capabilities also include matching your product to a Pantone Matching System (PMS) color value.
Custom Printing
To help you meet advertising and promotional objectives, Lee Rubber creates custom printed bands. Our printing capabilities include a range of options from simple text to full-color photographs. In addition to printing promotional and contact information, we print PLU #s, QRC and product codes, applied directly to the bands to facilitate easy and accurate product tracking and pricing.
Unique Applications
Lee Rubber is eager to explore unique banding applications, applying a world of options to meet the specialized needs of our clients. One example is our capacity to custom-match your fragrances, providing an enticing scent to complement your product and draw in buyers.
Quality Control
Maintaining the trust of our clients is a major priority at Lee Rubber. To meet the demand for high-level quality and dependability, we inspect each order for clear and sharp printing, precise color matching, and accurate sizing and elasticity with properly calibrated machinery.
With our expertise in selecting the right band and our capacity for custom sizing, coloring, and printing, Lee Rubber provides the right solution to fit specific banding needs.
For more information about our custom banding solutions or to start your custom order, contact us today.
Providing Quality Rubber Bands Nationwide for Over 70 Years
Request a Quote